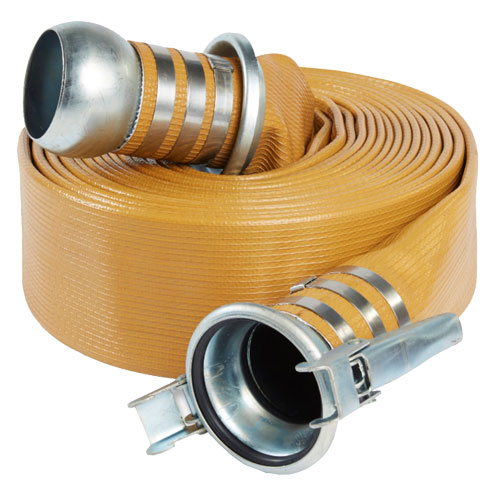 Ochre lay flat grooved hose in synthetic rubber with a polyester-polyamide textile layer
Hose for air compressors for public and civil works, drilling machinery compressors, high performance fluid pumps, highly abrasion-resistant applications, etc.
Standard length: Available in 60m lengths. Other lengths on request (up to 200m).
Temperature: -20°C to +80°C
Part
Number
Nominal
Inner Diameter
Wall Thickness
Working Pressure
Liquid
Working Pressure
Air
Burst Pressure
Tensile Strength
Nominal Weight
Bend Radius at WP
mm
inch
mm
inch
bar
psi
bar
psi
bar
psi
kg
lb
kg/m
lb/ft
m
ft
F550680A
20
3/4
2.0
0.079
33
480
25
360
100
1,450
1,500
3,300
0.20
0.13
0.65
2.13
F552110A
26
1
2.0
0.079
38
550
29
415
115
1,660
1,875
4,150
0.25
0.17
0.90
2.95
F552302A
38
1 1/2
2.8
0.110
21
305
16
225
63
910
3,000
6,600
0.45
0.30
1.14
3.61
F552663A
45
1 3/4
3.0
0.118
21
305
16
225
63
910
3,500
7,700
0.55
0.37
1.28
4.20
F552120A
52
2
3.0
0.118
21
305
16
225
63
910
3,750
8,250
0.64
0.43
1.30
4.27
F559287A*
65
2 1/2
3.0
0.118
21
300
13
185
52
750
6,000
13,200
0.70
0.47
1.35
4.43
F550760A
76
3
3.0
0.118
18
260
11
160
45
650
8,500
18,750
0.90
0.61
1.45
4.76
F552278A
102
4
3.1
0.122
21
300
-
-
52
750
13,000
28,650
1.25
0.84
1.80
5.91
F550208A
105
4
3.1
0.122
21
300
-
-
52
750
13,000
28,650
1.25
0.84
1.80
5.91
F550209A*
115
4 1/2
3.1
0.122
17
245
-
-
42
605
13,000
28,650
1.49
1.00
1.80
5.91
F551021A
127
5
3.2
0.126
17
245
-
-
42
605
15,500
34,150
1.70
1.14
1.90
6.23
F550206A
129
5
3.2
0.126
17
245
-
-
42
605
15,500
34,150
1.70
1.14
1.90
6.23
F559247A
152
6
4.0
0.157
20
290
-
-
50
725
23,400
51,600
2.50
1.68
2.00
6.56
F552365A
154
6
4.0
0.157
20
290
-
-
50
725
23,400
51,600
2.50
1.68
2.00
6.56
F559250A*
178
7
4.0
0.157
16
230
-
-
40
580
30,000
66,150
2.80
1.88
2.20
7.22
F552360A
203
8
4.1
0.161
14
200
-
-
35
500
35,000
77,150
3.30
2.22
2.50
8.20
F551950A
256
10
3.9
0.154
14
200
-
-
33
480
50,000
110,250
3.95
2.70
3.00
9.84
F552352A
305
12
4.8
0.189
11
155
-
-
26
375
46,000
101,400
4.80
3.23
3.30
10.83
The actual diameter of these hoses may differ slightly from the nominal diameter specied in this chart to make sure that they can be properly assembled with the couplings. For diameter tolerance questions please contact your distributor or directly to TIPSA.
All the hoses up to 3" (76mm) are marked with dual Working Pressure rating for both liquid transfer and compressed air. In the case of compressed air, a 4:1 safety factor has been considered over the Burst Pressure and, in the case of liquid/water transfer, the safety factor considered is 3:1.
*Available on minimum order quantity.