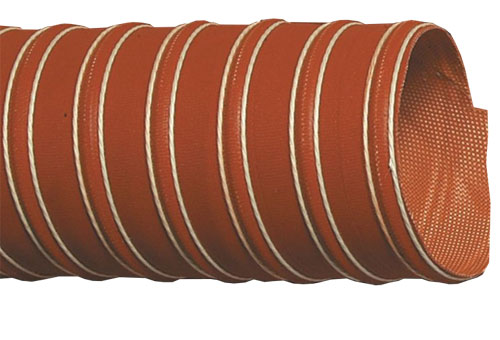 RYLFLEX SILICONE II
Double layer fibreglass hose with silicone coating and galvanized steel spiral
Suction hose for fumes, hot air, gases up to 250ºC and for the automotive, railway, and naval industries.
Standard length: Available in lengths of 4 meters.
Optional: Special blue productions for installation in railway vehicles with fire standard DIN 5510-2, ISO 5659-2 and ISO 19702.
Temperature: -40°C to +250°C. (peaks of 280°C).
| Item | Code | Ø (mm) |
| --- | --- | --- |
| C416025 | 6472 | 25 |
| C416032 | 6475 | 32 |
| C416038 | 6476 | 38 |
| C416041 | 6478 | 41 |
| C416044 | 6479 | 44 |
| C416051 | 6482 | 51 |
| C416055 | - | 55 |
| C416060 | 6485 | 60 |
| C416063 | 6486 | 63 |
| C416065 | 6487 | 65 |
| C416070 | 6488 | 70 |
| C416075 | 6489 | 75 |
| C416076 | 6490 | 76 |
| C416080 | 6491 | 80 |
| C416089 | 6493 | 89 |
| C416102 | 6497 | 102 |
| C416114 | 6500 | 114 |
| C416120 | 6503 | 120 |
| C416127 | 6505 | 127 |
| C416140 | 6507 | 140 |
| C416152 | 6509 | 152 |
| C416160 | 6510 | 160 |
| C416165 | 6511 | 165 |
| C416180 | 6514 | 180 |
| C416203 | 6516 | 203 |
| C416254 | 6519 | 254 |
| C416305 | 6521 | 305 |